Ghanaian rap icon Sarkodie has finally broken his silence regarding the recent allegations that his manager, Angelo, and his personal DJ, DJ Mensah, orchestrated the removal of Stonebwoy's team from the stage during the 2023 Tidal Waves Festival at La Palm Royal Beach on November 4.
The controversy, sparked by a video shared by many online portals, including Ghanaweb, who added the caption,  'Sarkodie's manager, AngelTown storms stage to stop Stonebwoy's performance at Tidal Rave,' has forced Sarkodie to come out to respond, even though he is not known to someone who mostly reacts to issues that come up in the industry about himself.
Addressing the situation, Sarkodie expressed his concern about the credibility of news circulated by various online portals and suggested that GhanaWeb was not a website people should trust because it churns out wrong information.
Sarkodie wrote: "If we've been taking our news from these sites then we know we in trouble as a nation…'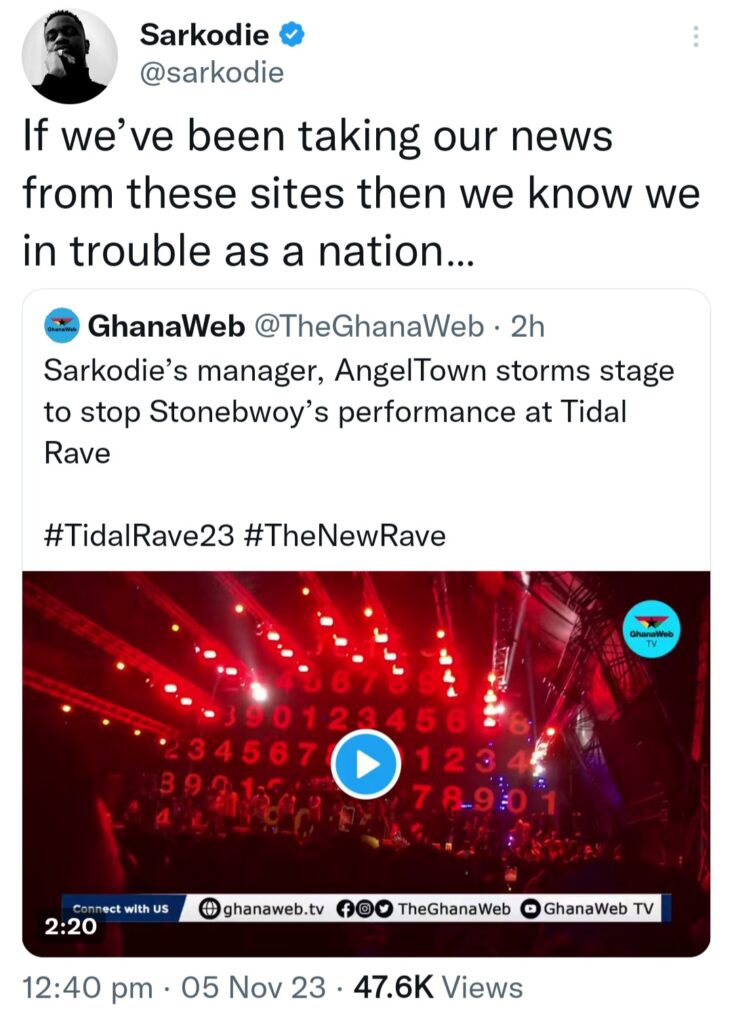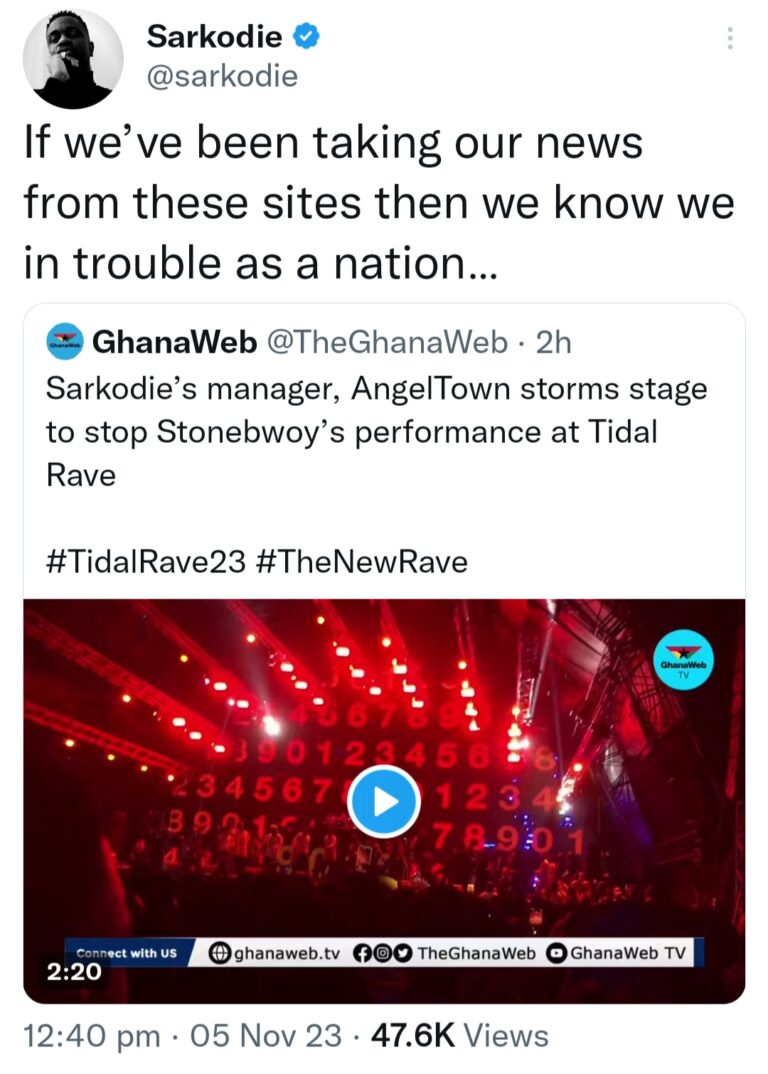 Background…
In the early hours of Sunday, November 5, 2023, many reports suggested that there was some form of chaos before Stonebwoy left the stage at the Tidal Waves Festival because he was allegedly forced off stage midway during his performance.
In a post seen on the Facebook of Gerrald Israel, a member of Stonebwoy's team, the Burniton Music boss, who happens to be one of Ghana's most prominent music exports, fell victim to a startling act of disrespect during his performance, and he indicated that this action raises concerns about the lack of courtesy and adherence to schedules in the entertainment world.
According to Gerald, the saga began when Stonebwoy and his team arrived at La Palm Royal Beach Hotel at 10:12 PM, about two hours before his scheduled performance from 12:15 AM to 1:00 AM.
However, the festival producers informed them of an altered running order, resulting in an additional hour's delay, making it a frustrating four-hour wait for the artist.
He added that despite the unexpected delay, Stonebwoy patiently waited, while other artists, including KiDi, Efya, La Meme, and Joey B, occupied the time originally allotted for his performance.
Gerrald further mentioned that Stonebwoy finally took the stage at 1:27 AM intending to deliver a performance lasting around 45 to 50 minutes. However, within a mere 30 minutes into his set, chaos ensued when Sarkodie's crew, led by DJ Mensah, abruptly halted Stonebwoy's performance by instructing his DJ to stop playing.
He stressed that this disrespectful interference not only disrupted the artist's flow but also left the audience bewildered.
In his closing remarks, Gerrald expressed his outrage, highlighting the blatant disrespect and inappropriate behavior exhibited by Sarkodie's team, and stated that it is not only unacceptable but also tarnishes the reputation of the entire music industry.
See his post below…